Further education courses
Training and further education
The Pestalozzi Children's Foundation implements its projects abroad in close cooperation with local charities. In order to constantly improve our projects, we offer the employees of our partner organisations the chance to do further training at the Pestalozzi Children's Village.
Living and learning at the Children's Village
Every year, employees from the twelve countries where the Pestalozzi Children's Foundation is active attend the "Senior Professional Training" course at the Pestalozzi Children's Village. The managerial employees live together in one house and attend lectures and workshops during their visit. These improve their management skills.
Improving skills
In addition to project support, the Pestalozzi Children's Foundation offers various workshops and further education courses to the employees of the partner organisations.
The objective of these further education courses is to strengthen the organisational as well as the teaching skills and knowledge of the employees, thus improving local project implementation.
These courses make a positive contribution to the goal of providing children and youths with regular access to good quality education.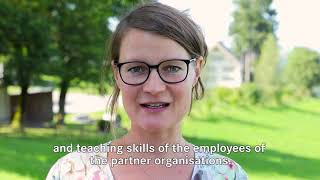 Improving our foreign projects
In addition to improving their subject and professional expertise, the further education courses also promote the exchange of experiences between the different participants. After the course, the participants return to their project work and apply their extended knowledge to their work. We make an important contribution to the continuous improvement of our foreign projects with this course.
This year, we are offering three different courses in Trogen for our foreign employees.
Child Safeguarding and Protection
The protection of children and youths is the essential objective of the Pestalozzi Children's Foundation as well as our partner organizations. In this course, the participants draw up guidelines for the protection of children and how these can be implemented in the organization.
Getting the Financial Basics Right
This course introduces the participants to financial management systems, improves their financial management skills, and teaches them to deploy and use their financial resources more efficiently and effectively.
Monitoring and Reporting
To enable participants to monitor the projects and measure their results, they are introduced to good monitoring instruments in this course and taught more about reporting.
«I have learned a lot during my eight months here, and I am very happy that I am able to apply my knowledge and experiences to my work with children in Honduras.»
Laura Mercedes Rey, 29
Tegucigalpa, Honduras
Support education projects in Switzerland
In 2016, we supported 3,100 children together.