Marianne Nitsche was twice in an exchange project in the Pestalozzi Children's Village as a child. Today she is a teacher and is in Trogen with her class for a theme project week.
The children of the 6th grade of the Laubegg Primary School in Winterthur are enthusiastic about the theme project week in the Pestalozzi Children's Village. Just like their teacher was back then when she herself took part in project weeks in the Children's Village twice as a child. She has such fond memories of these stays that she wanted to offer this opportunity to her pupils as well.
Marianne Nitsche is particularly happy that her preparation for this week was on a low level, and yet she was able to help shape the workshop topics. "This way, the week optimally complements the regular school lessons - and I, but also the children, are less stressed." Here, it is completely okay if you need ten minutes longer for a task. The children learn a lot, but in a different context, with different structures. They have a lot of time to play with each other and with groups from other schools and countries. They pick up their own food from the kitchen and then eat all together at the table. Team-building exercises are also on the programme - something Marianne Nitsche hardly has the capacity for in class.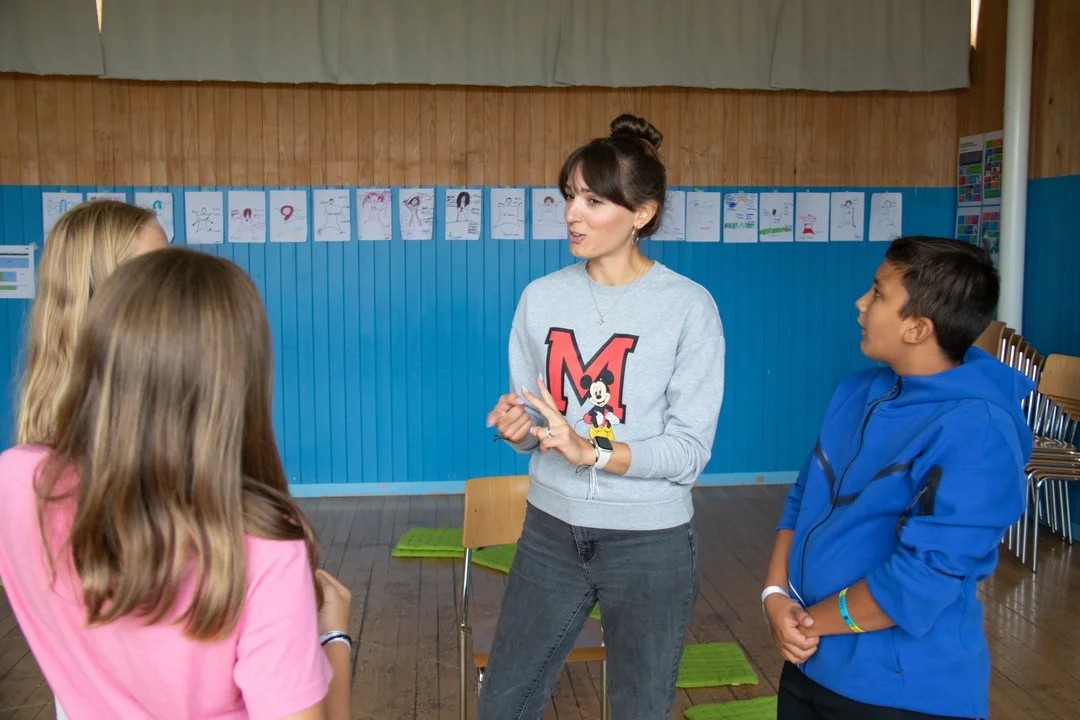 In addition to team building, the topics of identity and children's rights are important components of the workshops this week. The children deal intensively with questions such as "What are children's rights?", "What rights do I have?" and "Which children's rights are most important to me personally? In the workshop on identity, the sixth graders get to know themselves better. "Who am I?" and "What is my comfort zone?" After the workshops, the students have time to relax and unwind. Climbing in the climbing net, listening to music next to the campfire in the youth centre or during the joint hiking trip. 
"The children have just told me that they would love to stay here for another week," says Marianne Nitsche. "When I asked them if they didn't miss their parents, they said they could visit them briefly at the weekend and then come back here. Marianne Nitsche smiles because she too is sure that this was not her last visit to the Pestalozzi Children's Village.